FAST FORWARD DESIGNS
Fast Forward Designs was started by two former Oberheim synthesizer design engineers, Michel Doidic and Marcus Ryle. They have consulted to various clients, including Dynacord and Alesis, and even came out with a product of their own -- the MIDI Step. They have been heavily involved recently in the design of many Alesis products including the ADAT digital recording system. I hear they are now manufacturing a line of products themselves, under the Line 6 name.

ADD-Drive (1986) Fast Forward Designs (Dynacord).
Contributions: Electronic design and microprocessor firmware.
ADD-Drive technology: 6809 microprocessor, 8 bit linear sampling with audio compression, 3.5 inch floppy disk drive.
The ADD-Drive was a companion product for the Dynacord ADD-One "Advanced Digital Drums". It was used to sample audio and download sounds to the ADD-One. Sounds were saved on floppy disks.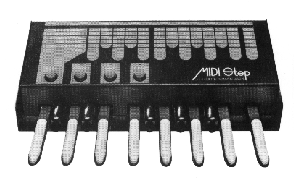 MIDI Step (1986) MIDI bass pedal controller -- Fast Forward Designs